The cooking schools focus on introducing people to healthful vegan alternatives to traditional recipes and lifestyle choices.
Wyona
, the leader, has put on about eight or nine similar seminars in the past. She has a varied background as a baker, teacher, business partner, and in retail health/natural foods. The 'assistants' do a variety of things to help with the Cooking school.
Bernie
is our "Science Guy" and at this last Cooking School he provided information about heavy metals and other environmental toxins that we want to avoid and get out of our lives (example, mercury amalgams).
Kim
, a local physiotherapist, provided information about using simple 'hydrotherapy' techniques instead of pain-killing meds. I spent a few minutes talking about how
pure essential oils
are a healthy alternative to pharmaceuticals or surgery.
Gary
, a local chef, came in to show us how a stirfry is really done (and to show off some of his knife-cutting skills).
Ruth, Paulin
e, Lydia, Gerhard, Gordon
and
Cheryl
also put their backs and hands into making the school the success it was, and contributed to the fun that is part of a well-organized health ministry.
Here are some pictures taken over the course of the course, so to speak...heheh.
This is Bernie, our very competent "Science Guy"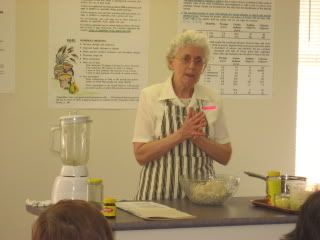 Wyona presenting the Vegan Cooking message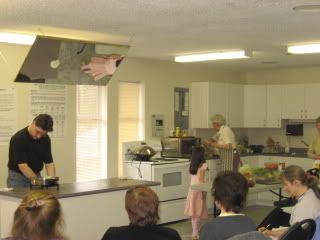 Gary the Chef hard at work with his demonstrations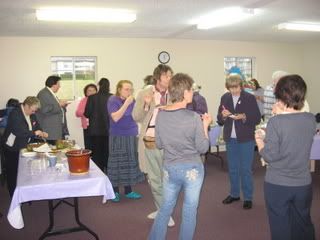 Sampling-- the most fun part of the Cooking School!